Empowering Community-Led Sustainable Solutions
Today, members of the Ummah from all over the world have the opportunity to come together and have an extraordinary impact for the planet and its inhabitants, and play a leading role in the fight against climate change.
The Green Mosque Initiative is inspired by the great work already being done by partners like Islamic Relief who funded Glasgow Central Mosque's solar panels, and the solar energy efforts made last year at the Istiqlal mosque in Jakarta.
The Green Mosque Initiative began with a big idea and some questions:
What if all mosques in the world were equipped with solar energy systems?
How could that be achieved?
What impact would it have on the communities these centers of worship serve?
How will it help mitigate the effects of climate change?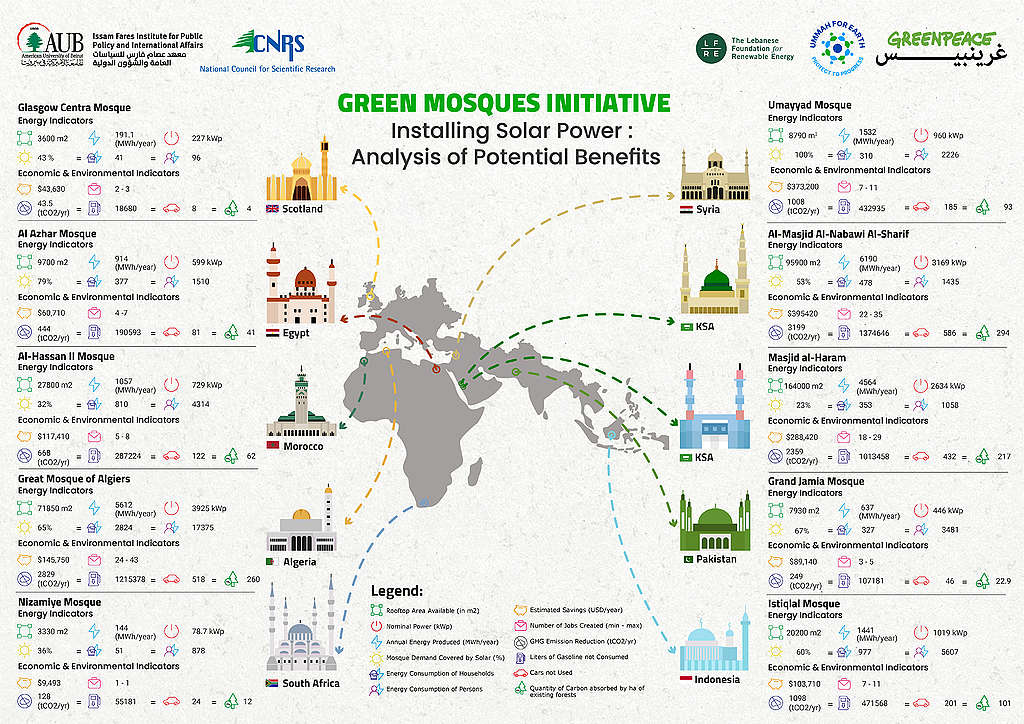 With these questions in mind, we selected ten mosques from around the world that can serve as examples, and commissioned a detailed technical analysis of the feasibility and impact of installing solar energy systems at their sites. The report was developed by a team from the Issam Fares Institute for Public Policy and International Affairs at the American University of Beirut, in collaboration with The Lebanese Foundation for Renewable Energy and the National Council for Scientific Research.
This report shows the potential that 'the Ummah' has to be part of the solution not only through the direct environmental benefits of 'greening' these Mosques but also because of their potential to influence people as centres of culture, spirituality and community life. They are an expression of the willingness of Muslims and religious leaders to be part of the climate solution!
Umman for Earth is working to empower Muslim communities – especially those at the front lines of the climate crisis, to take more initiative and lead the way towards a green and just transition to a sustainable world, a world free of fossil fuels, and one where humans live in balance and harmony with nature and the environment.
Today, we invite you to join this initiative by taking the first step towards turning your own community mosque into a shining beacon of sustainability. Show your support and interest in being part of this initiative by filling out the form below and we will be in touch soon with further information.
Our hope and ambition is for this initiative to be an inspiration, and to represent one more step in the journey of a thousand miles, or one more mosque of a hundred thousand, In Sha'a Allah!
While we all continue to demand climate policy, we must take the initiative and implement the solutions we are capable of carrying out ourselves.
Let us all go out there and build the best future we can imagine, the future we all deserve.