COP26 Global Day of Action for Climate Justice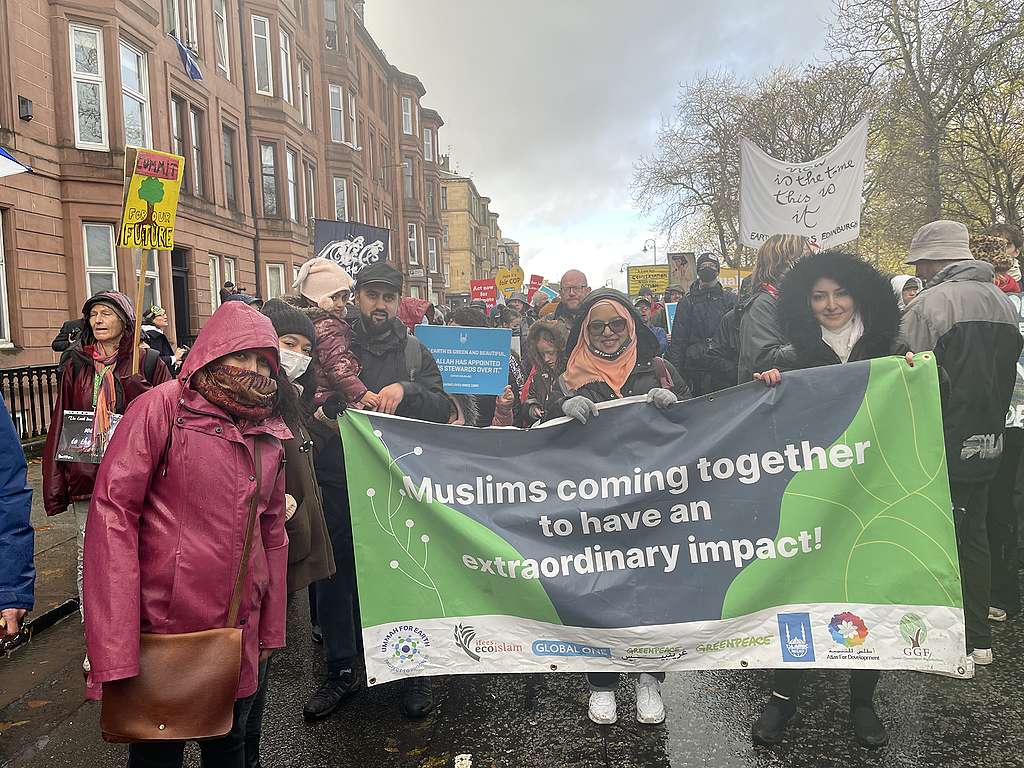 On Saturday 6th November, the COP26 Coalition organised a Global Day of Action for Climate Justice. The COP26 Coalition is a civil society coalition of groups and individuals mobilising around climate justice during COP26, including environment and development NGOs, trade unions, grassroots community campaigns, faith groups, youth groups, migrant and racial justice networks.
Ummah for Earth alliance delegates to COP26 marched along, in solidarity with all those affected by the climate crisis today and with marginalized communities at the front lines of the climate crisis.
Glasgow Central Mosque solarized in major new global climate initiative launched at COP26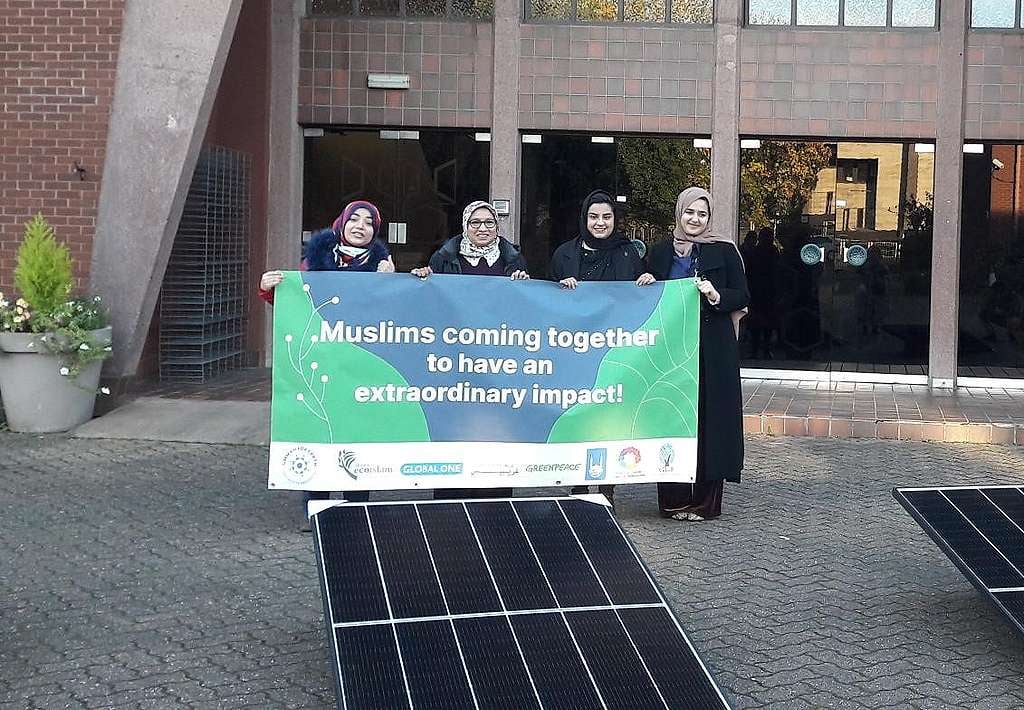 Islamic Relief and Greenpeace MENA as part of the Ummah for Earth Alliance expect greening effort to spark "domino effect" among religious communities across the world
The largest mosque in Scotland is to be solarised on Thursday 4th November in order to drive down its carbon emissions and encourage buildings of worship to step up their fight against climate change.
The initiative, funded by aid organisation Islamic Relief and announced during the COP26 climate conference, will see 130 solar panels installed with the aim of cutting out an estimated 18,000kg per year of CO2 emissions.
Tufail Hussein, Director of Islamic Relief UK, said:
"The solarisation effort of this iconic building – located right across the river from where world leaders are meeting at COP26 – must encourage actions on a global scale. We hope it sparks a domino effect for a wide variety of places of worship to cut their emissions and act as beacons in the fight against climate change.
Irfan Razzaq, General Secretary of Glasgow Central Mosque, said:
"As stewards of the earth, it is our moral responsibility to do everything we can to protect our planet and ensure it is preserved for future generations. For too long, we have overlooked this fact and it is now time to realize our obligations and act.
Energy savings from the solarization will allow the mosque to fund other community initiatives such as an urban food growing project to further reduce carbon emissions. The mosque has also committed to hosting annual awareness sessions for the local community on the dangers of climate change and the importance of green energy solutions.
Nouhad from Ummah for Earth representing voices from the Muslim world
Ummah for Earth is an alliance-led initiative, created to empower Muslim communities at the front lines of the climate crisis, those most vulnerable, who are bearing the brunt of the impact of climate change across the world. Ummah for Earth sees the COP26 Climate Change Conference as a turning point in the dynamics of global climate action.
By taking the lead on the climate crisis and standing for a green and just transition, Muslims can fulfil their historic role in inspiring humanity by mobilizing the strength, diversity and passion of the Ummah to protect life on planet Earth.
COP26 is an opportunity to prove that Muslims can come together to have an extraordinary impact for the planet!
October 30 : Ummah for Earth" Sends Message from 70 Thousand Muslims to COP26 Leaders Through Projection on Glasgow Central Mosque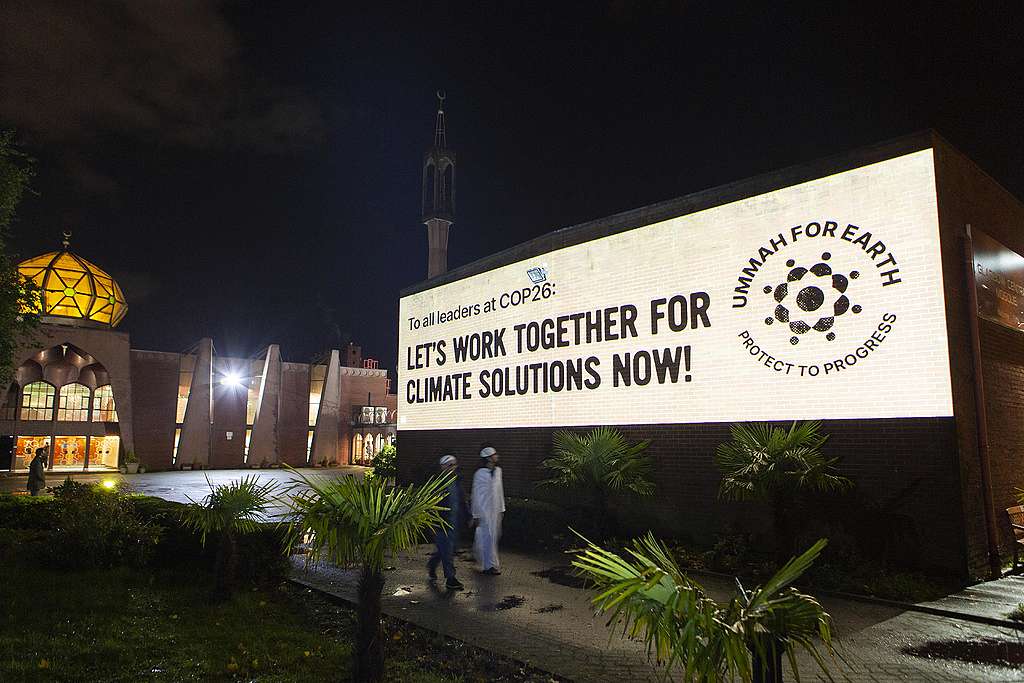 In the build up to COP26, Ummah for Earth delivered a message to world leaders through a projection on the Glasgow Central Mosque close to the conference venue.
The projection represents your voice, along with 70 thousand other Muslims from around the world who signed a pledge to act responsibly towards the environment and become an 'Ummah for Earth,' with a simple message about the urgency for climate action: "To all leaders at COP26: Let's work together for climate solutions now!"
Throughout the course of the conference, the Ummah for Earth Alliance is calling for world leaders, especially those from Muslim majority countries to take more concrete actions and:
Make serious progress by issuing new commitments and moving faster to phase out of fossil fuels to keep the goal of limiting global warming below 1.5C within reach
Support the transition of developing economies, including supporting the most affected communities
Ensure that the $100bn annually for climate change financing is not only met but made more transparent for easier accountability
Guarantee that a fairer share of funds is set aside for global adaptation projects that helps communities prepare for the worst consequences of climate change
Ensure that loss and damage financing, which helps countries hardest hit by climate change rebuild, is urgently increased